Davis Life Concepts for Autism:
A pathway to full participation in life
A workshop specifically created for parents, caregivers & support persons of those with ASD and individuals on the autism spectrum who are looking for a self-development program.
Description: An introductory course to the Davis Autism Approach®
Aim: To provide the opportunity to gain sufficient knowledge and skills to actively support a person with autism working through the Davis Autism Approach® Program.
Learning Outcomes:
Upon completion of the workshop you will:
Demonstrate an understanding behind the rationale for the program and how it helps those with autism participate more fully in life.
Identify key life concepts and why they are best explored in a specific sequence.
Describe and reflect on the technique of Concept Mastery and gain experience on how to guide another or self through this process.
Explore the mastery procedure with the first set of concepts described in the book, Autism and the Seeds of Change.
Gain experience of how to explore these concepts in the environment and the value of integrating them into everyday life.
Demonstrate the techniques needed to guide another through the use of the "Davis focusing tools".
Create a plan of how to implement an individualised program for the person you are supporting or for yourself.
Who should attend: 
Parents, family members and support persons of an individual on the autism spectrum, adult autistic individuals who are looking for a self-development program, or anyone who is interested in helping a person with autism through the Davis Autism Approach®.
Prerequisites: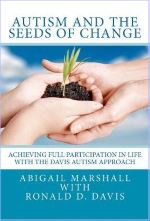 Read the book Autism and the Seeds of Change – By Abigail Marshall and Ronald D. Davis
Course Length: 5 days – 30 hours
Note:  This course does not include certification or licensing for commercial use of the Davis trademarks; such use requires extensive additional training.
---
Upcoming Workshops: